2019.01.07 Monday
I've survived!
There was our orchestra's first concert this year last weekend. :)
There were 3 parts in the concert such as "with Saxophone soloist"(1st part), "Orchestra pieces"(2nd part) and "Wind band pieces with juniou high school students"(3rd part).
Bolero by M.Ravel was in the program and there was also "Prelude to 3rd Act from Lohengrin" by R.Wagner.
It was hard and it was like an orchestra audition for Trombone. :) ;)
It was hard one, but I've survived!!! :D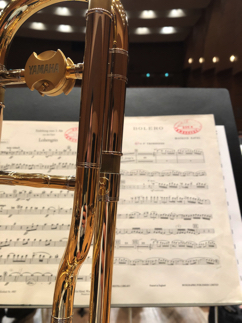 After this hard concert, there is Mahler's 3rd Symphony without rest day!!
What a life for Trombone player! :D ;)