2017.11.05 Sunday
Had good time with Toby
BSO(Boston Symphony Orchestra) was in Osaka yesterday as a part of their Japan tour.
It's pity that I couldn't listen their concert(I knew about this concert too late...), but it was very nice to meet and had coffee together with Toby(Oft) who is the Principal Trombone of the BSO before concert. :)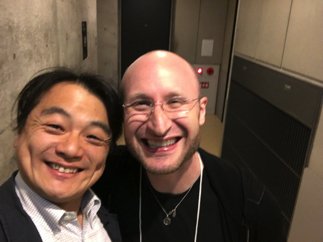 It's always very nice to have conversation with Trombone player from the orchestra and talk about our job and life.
It's so pity that they only stay several hours only for performing concert and didn't stay in Osaka this time...
I really hope that they stay in Osaka next time and we have longer time for enjoying our friendship!! :D
Thank you Toby for making time for me! ;)
I joined my wife Ai's wind band rehearsal in the evening.
It's tough to play in the wind band! :D
But it was enjoyable time. ;)