2019.05.02 Thursday
Working for low register
I'm used to work on etudes by Milde which is originally for Bassoon.
It was for Euphonium practice for me, but I try it on Trombone this time.
It's very good work for wide register espacially low register.
I'm used to work it on Euphonium for years, but it's nice to work it on Trombone as well.
I already found my low register is getting more stable. ;)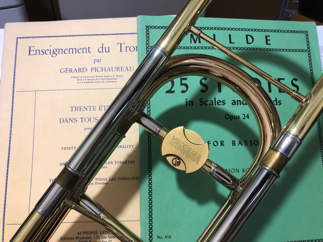 My favorite French etude(left) and new for Trombone(right). :)
They makes my life fun!! :D