2018.05.17 Thursday
Dream came true!! - 1
I had wonderful time in Fukuoka last week.
It was for the concert with Kyushu Wind Orchestra(professional wind orchestra in Kyushu), my best friend Johan(de Meij) and my Trombone hero Jörgen(van Rijen).
We performed Johan's "TWO-BONE CONCERTO" as Japan-Premier. :)
It had been one of my dream to perform this with these fantastic members since years.
And It came true finally!!! :D
Not only perform this piece with wonderful members, I had really nice days in Fukuoka. :)
These are fantastic days like this!! :)
It was even too hot sometime.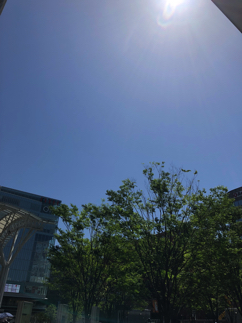 I can't travel with my Trombone, suitcase and Euphonium at once by train, so I sent it by transportation service.
I works very well in Japan. ;)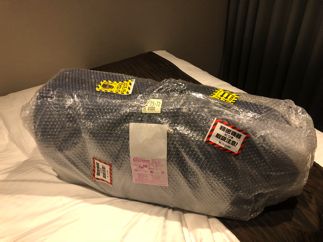 I had good time with Fukusho high school wind band.
They are very motivated and work hard. ;)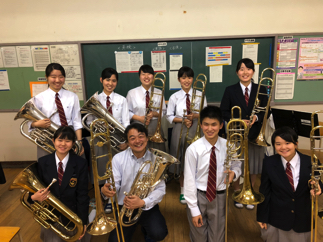 Day 2 in Fukuoka.
I recorded radio programs(interview) in the morning.
I tranlated Johan for that and I was also invited as guest. ;)
It was fun time!! :D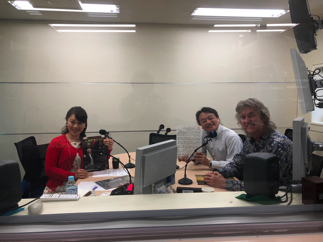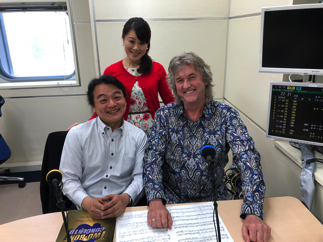 We enjoyed our favorite Spicy Noodle after radio recording!
Johan, welcome to Japan!!! ;) :D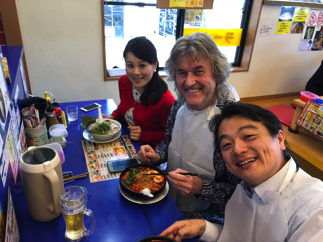 I had good time with Euphonium member of Seika girls high school wind band later.
We worked hard for how to practice in difficult points.
I hope they get it quick! ;)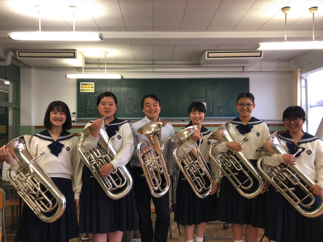 Just after that, I drove to hotel for pick Jörgen up and headed to the rehearsal place which takes about one hour.
It was very nice to go there by car because I could talk with Jörgen about many things in the car. :)
First rehearsal went very well.
I felt really happy to perform with Jörgen under Johan's baton.
I was in my dream. :D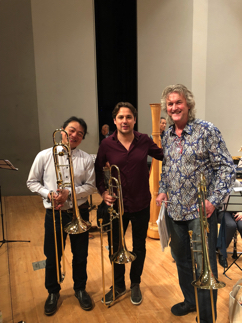 With Euphonium members after rehearsal. :)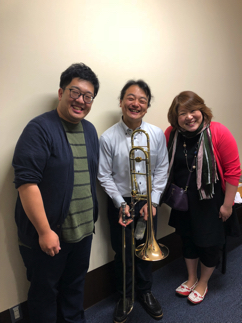 After backed to the center of Fukuoka city, we had fun dinner together. :D
It was so nice to share good time with Johan and Jörgen.
We talked about many things which is fun, interesting and crazy. ;)
Of course, we enjoyed nice food, beer, sake and wine. :D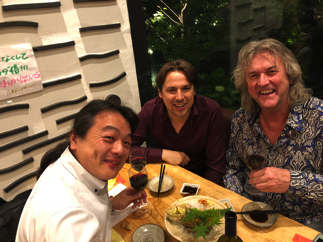 Day 3 in Fukuoka.
I started that day slowly.
I had appointment at noon at the Cremona Gakki(music shop), so I had good walk to there from hotel.
I felt good by walking in Fukuoka city. :)
I had happy time at the Cremona Gakki with very kind people there.
With one of them from Cremona Gakki who plays Trombone! :)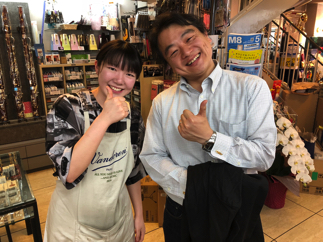 We had good rehearsal as usual and I enjoyed very very happy moments during rehearsal. :D
I went out from concert hall after rehearsal, I could see nice blue sky! ;)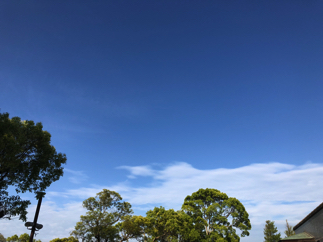 We had nice dinner with some of members from Kyushu Wind Orchestra.
Everyone enjoyed happy time!! :D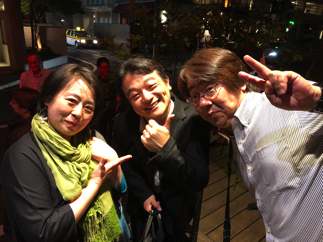 Big smile!! :D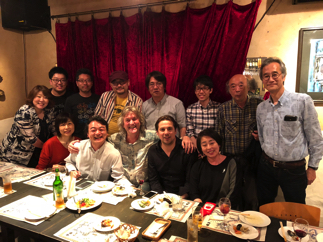 It's enough long now, so I continue this blog for tomorrow. :)