2018.02.08 Thursday
Writing about music is not easy
Finally, I'm off from orchestra works for 2 days now!
But there are many things what I need to do.
It's fine because I work on matters what I love to do, but it's not so easy to make my time schedule for those. ;)
I'm working on writing manuscript of an article about basis practice on Trombone or/and Euphonium for monthly Japanese wind instruments magazine right now.
It's not easy at all to explain about music practice by words. So I use my brain as much as possible for these few weeks. :D
It's almost done now!
I'll work on it hard this morning and finish it!!! :D
I had enjoyable time with my Euphonium students at the ESA Music Academy yesterday. :)
It's always big fun to work hard with them.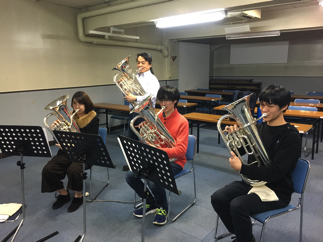 I'm so happy to have these nice students. :D